Guelph's Smallest Live Theatre Company
JayWalking Guelph, features stories, recitations, walking tours and small-scale theatre productions. Jay Wilson is the person behind these entertainment projects. In addition to marketing and administration, Jay builds soundscapes, directs theatre, writes skits, performes, and does anything else that the project demands.
Performing at festivals, events, schools, theatres, community centres, retirement homes, parties or simply out on the street, Jay has performed throughout Ontario going on 50 years now!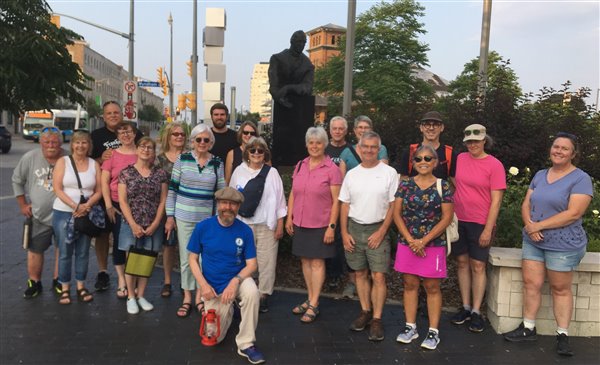 Jay is a regular feature in his current hometown of Guelph, with his audience being made up of locals, new arrivals, and visitors.. For Jay live performances are the most compelling and rewarding; with no two performances alike.
For Jay the text is king. Great writing is worth memorizing and reciting.
Book a show, a tour, or custom storytelling event. Everything comes with a full money back guarantee. Experience has proven, if you attend one JayWalking event, you will attend another.
Currently available, "Isn't That The Dickens" perfect for your holiday event, a 10 minute adaptation of A Christmas Carol. A radio play performed live before your eyes.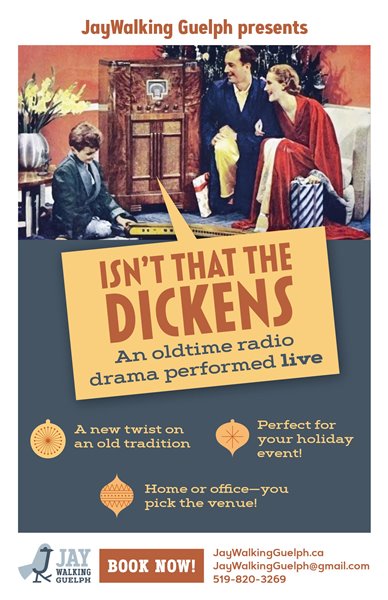 Ring in the New Year with Gwelf Early Days. Sunday December 31 at 2pm, New Year's Eve. TICKETS NOW ON SALE HERE